The COVID-19 lockdown has forced many of us to spend more time at home than ever before. So it's no surprise that a lot of people have taken the lockdown as an opportunity to start planning home improvements and kitchen renovations. However, with virtually all shops, showrooms and builders' merchants closed across the country, getting the supplies and the information you need to get started hasn't been easy.
Luckily, with the loosening of lockdown restrictions, things are starting to open up once more. So if you're one of the many Brits dreaming of a bit of DIY, now is the perfect time to turn your plans into reality.
Are kitchen showrooms open?
Most kitchen showrooms in the UK were closed when full lockdown restrictions were in place. This was done in order to protect staff and customers and to encourage as many people as possible to stay at home. And while some large chain shops did open their doors to the public, for the most part kitchen showrooms remained closed until retailers were allowed to start trading again in the middle of June.
Over the past few weeks, more and more kitchen showrooms have been welcoming customers back through their doors. This is enabling people across the country to finally get started on their longed-for kitchen renovations.
Safety has always been the top priority for the team at Snellings. As a result, we put a range of precautions in place before reopening to customers. These measures will help to protect both staff and clients as they design, plan and create their new kitchens.
How to stay safe as you shop for your new kitchen
If you're planning on renovating your kitchen this summer, you need to plan the design and installation processes carefully. Before you visit your chosen kitchen showroom, call ahead to make sure they're open. Some showrooms are operating on an appointment-only basis, so it's best to double check before your leave the house.
Whenever you head into a shop or showroom, it's important to wear a mask or face covering. While a mask won't prevent you from catching COVID-19, it will reduce the risk. A face covering will also help to stop you passing the infection on if you have the virus but don't realise it.
A lot of kitchen showrooms now have hand sanitiser close to the entrance of the premises. Using this on the way in will help to kill any germs you might have picked up on your way to the showroom. Use the sanitiser on your way out as well just in case you touched any contaminated surfaces. When browsing worktops, sinks, fridges, dishwashers and ovens, try to avoid touching your face or coughing into your hands. If you do have the virus without realising it, these actions can spread the infection and put others at risk. If someone with the virus has been in the space before you and contaminated some of the products and surfaces, avoiding contact with your mouth and eyes will help to minimise your risk of infection. Where possible, try to stay two metres away from staff and other shoppers. When this isn't an option, keep at least one metre from other people.
Different kitchen showrooms will have different rules, so make sure you take notice of any information boards displayed in the space and always follow instructions from staff.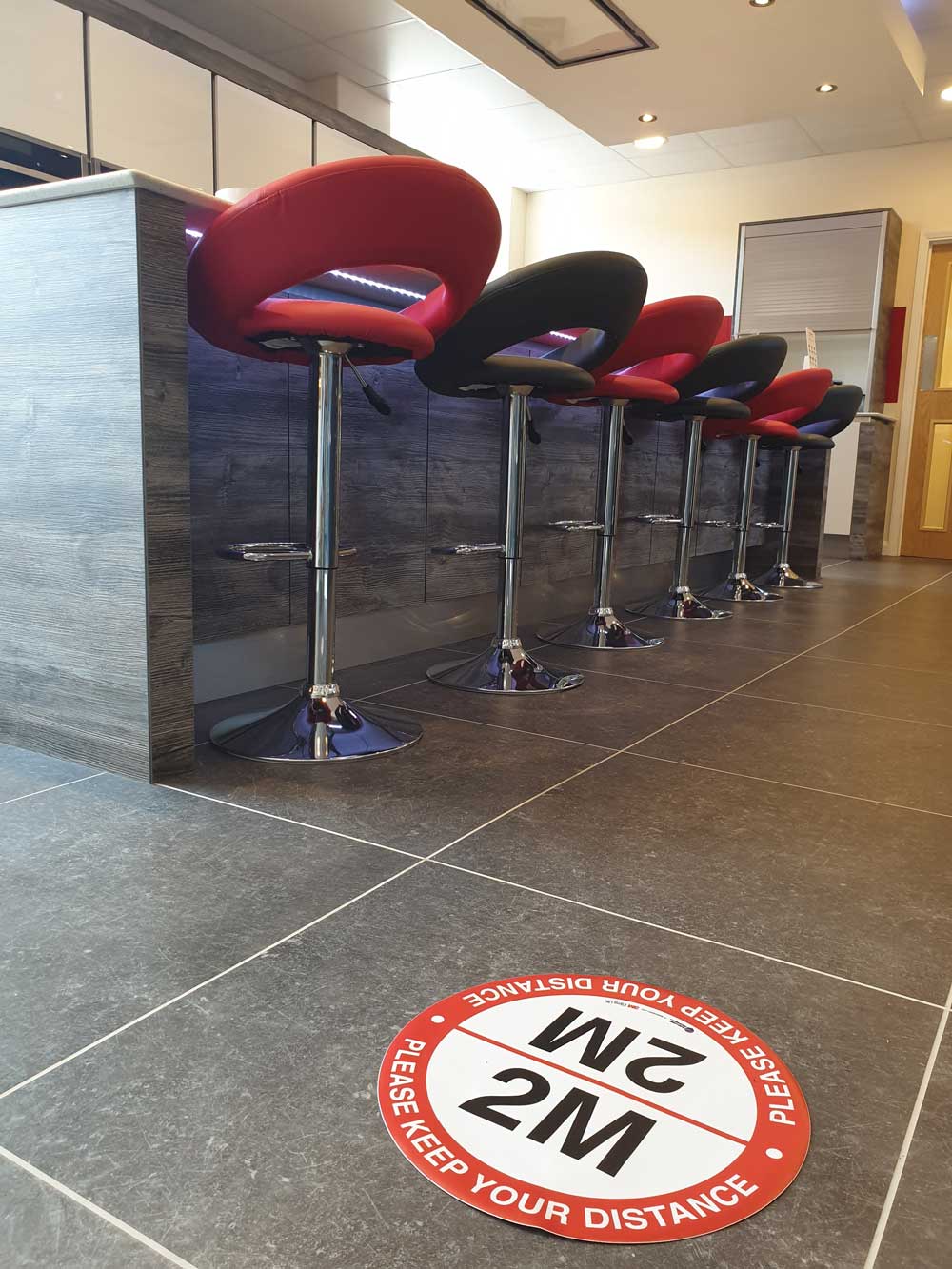 Safety at Snellings
Like many of the other kitchen showrooms reopening in the UK, Snellings is putting customer safety first. In order to make our showroom as safe as possible, we're adhering to government guidelines and introducing comprehensive hygiene and social distancing rules.
Our team will limit the number of people in the showroom at any one time. This may mean you're asked to wait outside for a short period while other customers finish their visit. We thank our customers for their patience and understanding when it comes to waiting their turn.
Hand sanitiser will be available in the showroom and customers and staff will be encouraged to use it on a regular basis. Our team will be cleaning all surfaces and frequently touched objects as often as possible in order to kill germs and prevent infections. When you visit the Snellings kitchen showroom, our staff will demonstrate items to you in order to minimise the number of people touching our products. We'll also be asking customers to pay by card instead of cash to further reduce the risk of touch transmission.
Kitchen design consultations
While customers are now able to visit our showroom whenever they like, you'll need to make an appointment if you want to speak to Sam, our kitchen designer. As well as ensuring Sam's expertise is there when you need it, this helps to minimise the number of customers waiting around and ensures a smooth flow in and out of the showroom.
If you can't make it to the showroom to speak to Sam, you can make an appointment for an online consultation. Sam can use the video link to assess your kitchen and start creating a plan for your redesign. An online consultation also gives you the opportunity to talk over your ideas and find out more about our products and services.
If you're thinking about revamping your kitchen during lockdown, we can help. Explore our site, or get in touch with a member of our